Welcome to Aquamarine Charters
Providing a charter service for divers, anglers, geologists,  wildlife enthusiasts and marine industry,
in the beautiful surroundings of Eyemouth, St Abbs. Burnmouth and beyond!
Our fully lincenced boats can also be hired for commercial work too. 
Diving
The St Abbs and Eyemouth Voluntary Marine reserve and surrounding area, offers some of the best diving in the UK. The towering cliffs above the water level are covered with soft coral below the water. Here the usually elusive wolf fish can be found, as well as many species of nudibranch. In season, diving guillemots can be seen by divers on their safety stop, chasing their bubbles as they rise to the surface. And if wrecks are your 'thing', then we have lots!
Nature and Geology
The geology of the layered sedimentary cliffs of greywacke and siltstone are fascinating and very ancient. The folding of the rock provides ledges which many species of bird use for nesting. The colonies can get very large, and can be both seen and heard from quite a distance.

Grey seals, dolphins and sometimes whales can also be seen along the coast too; as well as the resident seal in Eyemouth harbour.
Aquamarine Charters has two boats for hire:
For fishing and commercial hire, MV Sagittarius is a Blyth Catamaran 33, with a roomy deck (almost 5 metres wide) and an island wheelhouse, to make the boat stable and fishing a joy! 
For diving, sight seeing and commercial hire, MV Oceanic is a Southcat 38 built in 2007 with twin Iveco 330 HP. 11.8m long with a double dive lift, MV Oceanic is ideal for diving.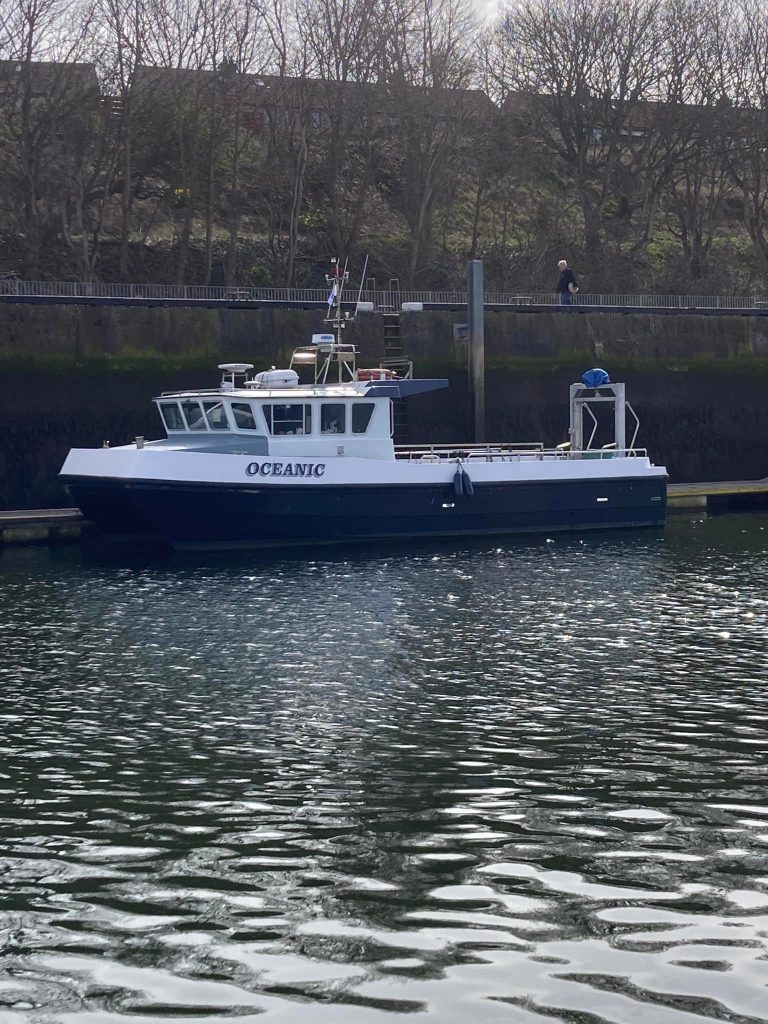 Based in Eyemouth, with easy acces to St Abbs and Beyond....
Aquamarine Charters is based in Eyemouth, a small town just north of Scottish border. From here Aquamarine Charters can easily take you as a diver or sightseer, to the St Abbs and Eyemouth Voluntary Marine Reserve, to see the seals at Burnmouth or even as far as Bass Rock in the Firth of Forth.
There are many good angling and diving sites in the area. The skippers are happy to share their knowledge; always trying to find a productive site, no matter the time of year or weather. The boats can also be hired for commercial marine work too.    
Aquamarine Charters Special events!
Are you interested in seeing wolf fish? They are an elusive species to find and photograph, but on this coast they can be found around Black Carrs.  Mike Clark has been running trips with Aquamarine Charters to enable suitably qualified divers to find and photograph these special fish.
Seeing the seabirds on the cliffs of the St Abbs Voluntary Marine Reserve is an amazing site, but have you seen them fly through the water? Why not come and join Mike Clark on a photography event? Derek the skipper of oceanic knows where the birds swim and Mike can give you photography pointers too.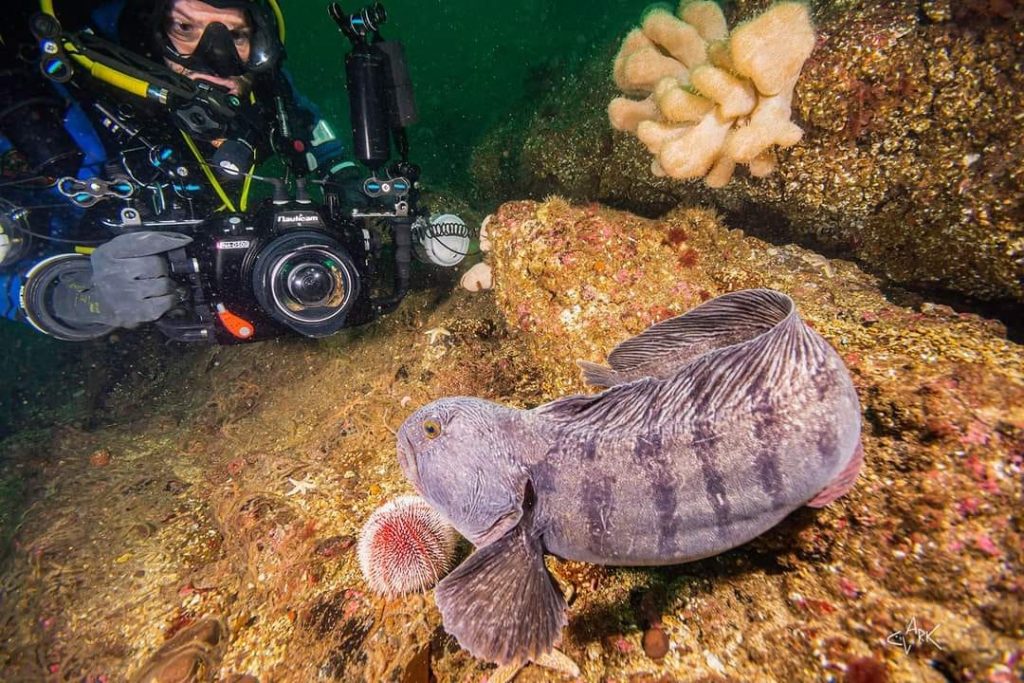 If you are interested in a diving, angling or sightseeing (geology, natural history or just a day out), do get in contact.